How will knowing your Prospe
cts 'Colour' Personality help improve your Success in life?
The Four Temperaments - Colour to Success, Hmm...!


Have you ever wondered how one person can talk to 25 prospects and sign up 20 and another person can talk to those same people and struggle to get just one?
The one thing common to both situations is the person doing the talking. So what is the difference between someone who can attract 20 out of 25 and someone who can attract 1 out of 25?

Maybe the only difference is learning and knowing your prospects 'colour' personality!
Yellow / Phlegmati

c / Open and Indirect = 35% population

Blue / Sanguine / Open and Direct = 15% population

Green / Malencholy / Self contained and Indirect = 35% population

Red / Choleric / Self contained and Direct= 15% population

The terms

sanguine

,

choleric

,

melancholy

and phlegmatic

are from ancient greek times when a person's personality was
said to be determined by the "4 humours" in the body (humours=fluids):

blood (sanguine)

,

yellow bile (choleric--pronounced ko-LAIR-ic)

,

black bile (melancholy)

and

p
helgm (phlegmatic)

.
A rather descriptive interpretation from Wikipedia of the '4 Humours/Personalities';
Sanguine

indicates the personality of an individual with the temperament of blood, Night, the seasonof spring(wet and hot), and the of air. A person who is sanguine is generally light-hearted, funloving, a people person, loves to entertain, spontaneous, and confident. However they can be arrogant, cocky, and indulgent. He/She can be day-dreamy and off-task

to the point of not accomplishing anything and can be impulsive, possibly acting on whims in an unpredictable fashion. This also describes the manicphase of a bipolar disorde

r. The humour of Sanguine is usually treated with leeches.



Choleric

corresponds to the fluid of yellow bile, the season of summer (dry and hot), and the element of fire. A person who is choleric is a doer and a leader. They have a lot of ambition, energy and passion and try to instill it in others. They can dominate people of other temperaments, especially phlegmatic types. Many great charismatic military and political figures were

cholerics. On the negative side, they are easily angered or bad-tempered.
Melancholic

is the personalit

y of an individual characterized by black bile (hence

Greekmelas

, "black", + χολή,

kholé

, "bile"); a person who is a thoughtful ponderer has a

melancholic

disposition. Often very kind and considerate, melancholics can be highly creative – as in poetry and art

- but also can become overly pre-occupied with the tragedy and cruelty fall

/autumn (dry and cold) and the element earth

. A

melancholic

is also often a perfectionist, being very particular about what they want and how they want it in some cases. This often results in being unsatisfied with one's own

artistic or creative works and always pointing out to themselves what could and should be improved.
Phlegmatic

person is calm and unemotional.Phlegmatic

means "pertaining to phlegm

", corresponds to

the season of winter

(wet and cold), and connotes the element of water

.

While phlegmatics are generally self-content and kind, their shy personality can often inhibit enthusiasm in others and make themselves lazy and resistant to change. They are very consistent, relaxed, rational, curious, and observant, making them good administrators and diplomats. Like the sanguine personality, the phlegmatic has many friends. However the phlegmatic is more reliable and compassionate; these characteristics typically make the phlegmatic a more dependable friend.
Have you worked out what Personality type you are?
I'm a
Teal
mixture of blue and green. Most of us have all the colours in us, but we are predominately one colour - except those of course that like to be
Unique
!
Would you like to know and learn more to discover what and why you need to know what colour you are and your 'prospects' even your friends and family (that could be fun too!)
Below is another descriptive way - lending more towards today's world - of the 'four personalities / four humors'.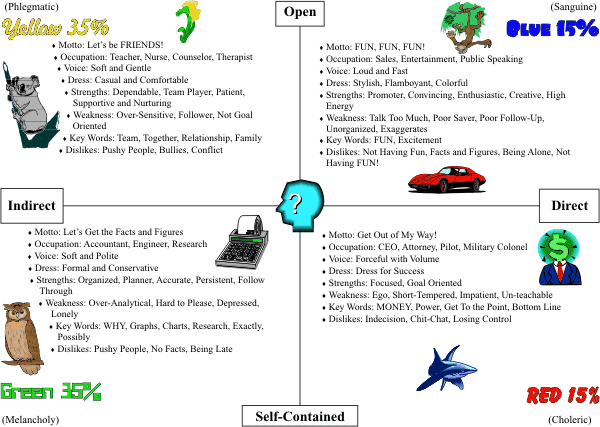 To your Success
Julie McClelland